According to the "2019 Taipei City Suburb Sewerage Systems Review and Planning Report" of the Construction and Planning Agency, Ministry of the Interior, it is ex-pected that the total estimated sewage in the Tamsui River System will reach up to 2,329,600CMD (daily average sewage) by 2032.
| 2032 Estimation | Taipei City | New Taipei City | Keelung City | Total |
| --- | --- | --- | --- | --- |
| Sewage (CMD) | 934,600 | 1,352,800 | 42,200 | 2,329,600 |
However, deducting the capacity of the existing sewage treatment plants, Taipei City will still have 194,600CMD untreated sewage by 2032; the SSO therefore corresponds in two directions: 1. Upgrade the existing sewage treatment plants to Class-3 ones; 2. Construct new sewage treatment plants (Minsheng Plant, Binjiang Plant, Shezidao Plant). Via the above solutions, the quantity of sewage treatment can increase to 975,000t/day by 2030, and the insufficiency shall be resolved by then.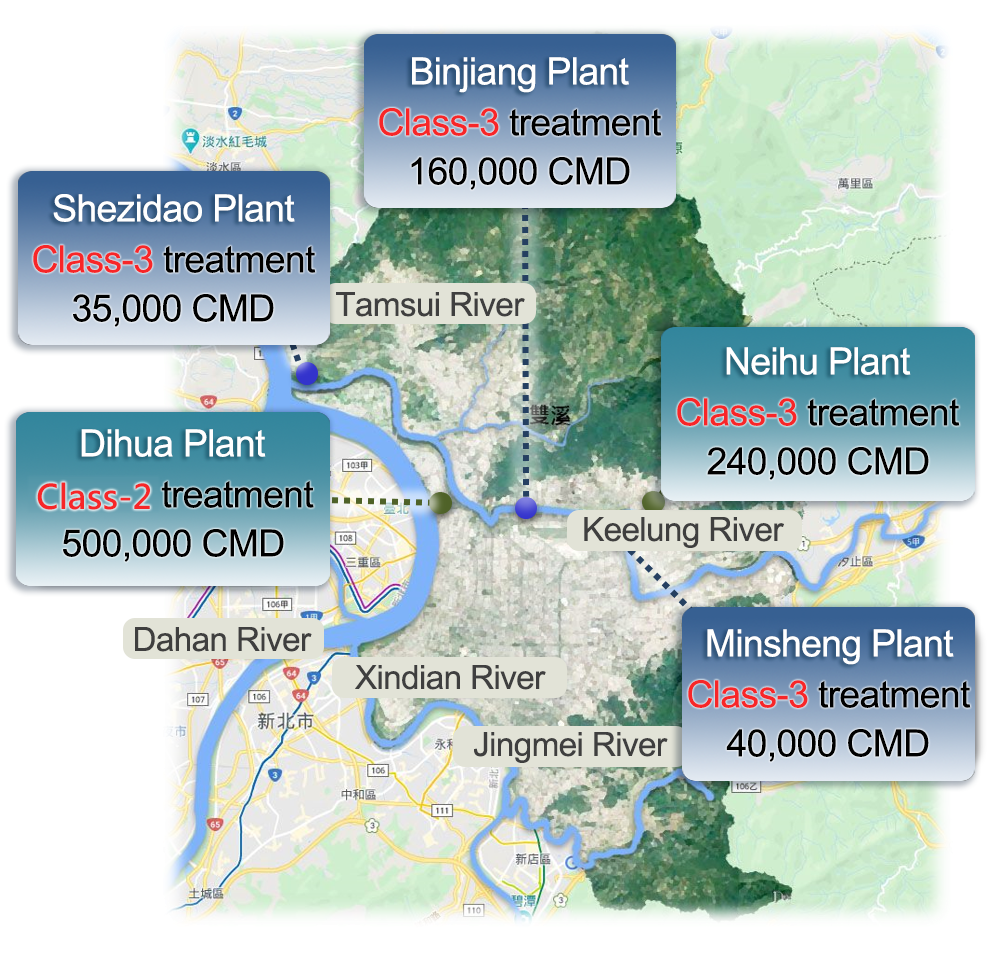 Mincheng Water Resource Recycle Center and Environment Education Building BOT Project
Project Funding
Total budget of project: NT$2.18billion
Construction Period
Commencement of work: 2021/04/15 Estimated completion date: September 2024; operations: 2025
Objectives

Increase 40,000t/day sewage treatment capacity, Class-3 treatment
Approx. 6,600M recycling pipeline network, 3 Smart Intake Stations and 13 Irrigation Water Outlets for in-creased use of recycled water.
Sewerage System Environment Education Building for promoting Sewerage System Environmental Educa-tion.
Set up Taipei City Sewerage Systems Smart Operating Management Center, integration of relevant facilities and information for facilitating operation and disaster prevention.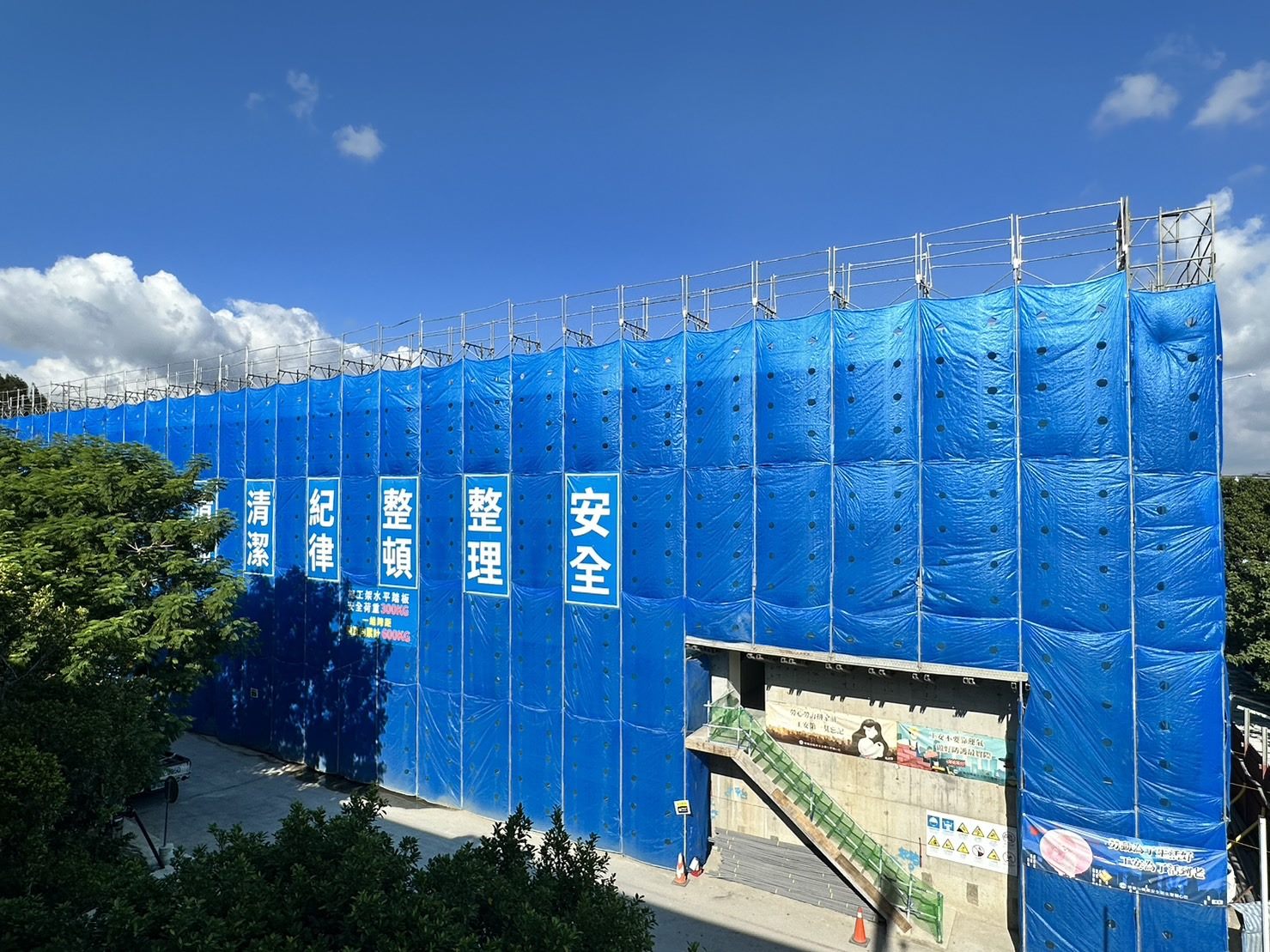 Binjiang Water Resource Recycle Center BOT Project
Total Construction Budget: NT$ 6,390,000,000 (estimation)
Scheduled BOT Construction Period: 2024 to 2030 (temporary)
Current Progress: land appropriation in progress
Site Location: Binjiang Street on the north, Jianguo Viaduct on the west, Binjiang Street Lan 180 on the east, Songjiang Road Lane 581 on the south.
Site Area: North Site: 4.8 hectare + South Site: 0.25 hectare, 5.05 hectare in total.
Anticipated sewage treatment: 160,000t/day
More understanding about Binjiang Water Resources Recycle Center
Shezhidao Water Resources Recycling Center-Entrusted Concept Design and Tech-nical Services
Concept Design and Environment Assessment
Scheduled Construction Period: 2023 to 2025
Construction Budget: NT$20million
Project Content: In coordination with review approval of environmental impact as-sessment of Shilin District Shezhidao Development Plan, a Sewage Treatment Plant is required for the area under development; the planned location of Sewage Treatment Plant is in the general protection area announced in the Natural Environment Projec-tion Project of costal areas in Taiwan; the area of development exceeds 1 hectare, therefore an additional environmental impact assessment is required.
Site Location: Shilin District Taipei City, Northwest of top of Shezhidao
Site Area: 1.7 hectare
Anticipated sewage treatment: 35,000t/day (internal treatment 24,000t/day, dis-persed treatment of Beitou Trunk of Taipei City Sewerage System: 11,000t/day)
Subsequent Project: New Sewage Treatment Plant
In coordination with Shezhidao Integral Development Program – Housing Project scheduled for completion in 2031; Sewage Treatment Plant is expected to complete and operate by 2030; construction period for subsequent promotion is within 2026 to 2030.